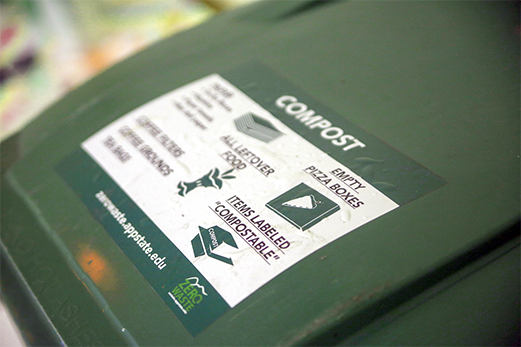 Familiarizing yourself with App State's color-coded bins is one way to live greener in Boone, as outlined in the GreenLiving Guide.
GreenSuite is a collection of programs designed to engage the campus community in efforts to incorporate more sustainable practices into their workplace and personal lives. These are meant to offer behavioral and operational solutions in support of climate action and climate justice.
Campus stakeholders are encouraged to collaborate with the Office of Sustainability to take part in the various programs in order to meet campus sustainability and climate action goals. Students are encouraged to reference the GreenLiving Guide and certify their residence hall rooms through GreenAppal, gaining recognition for their efforts. Faculty and Staff can engage by participating in the GreenWorkplace certification and using some of the suggestions in the GreenPurchasing guidelines.
GreenSuite Programs