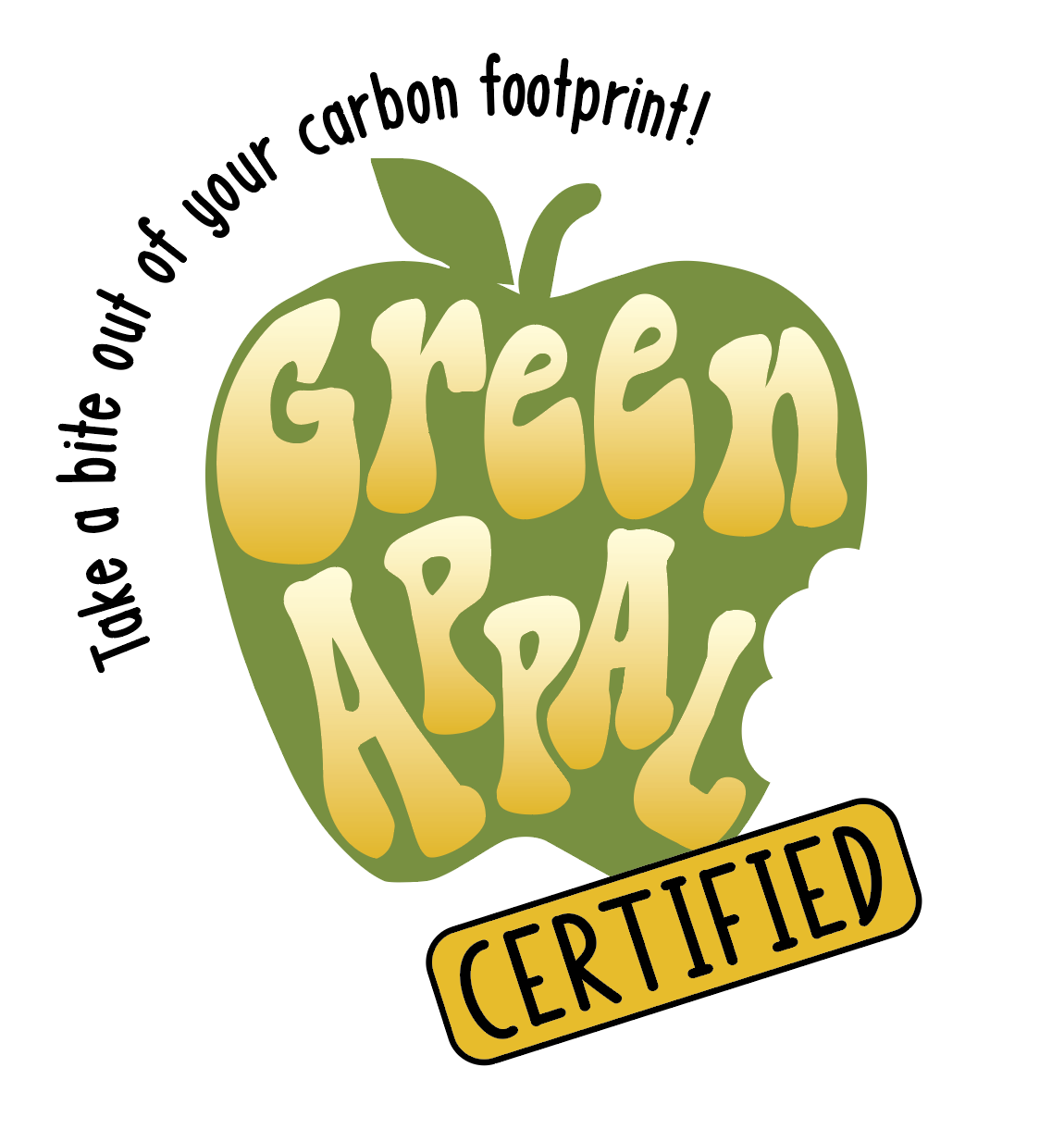 What is Green Appal?
The Green Appal program is a partnership between the Office of Sustainability and University Housing. Students voluntarily participate to show their commitment to sustainability.
This certification is meant to be a tool to educate and develop habits that promote a more sustainable environment within a student's living space. This certification recognizes students that have taken extra steps to ensure they are contributing to the sustainability goals of App State by greening their space and lowering their daily impact. Certification is contingent on completing all requirements and filling out the online form. This certification is completely voluntary, and the Office of Sustainability will offer advice and assistance if requested.
How do I get certified?
It's simple!
On Campus: If you live on campus, please visit here and fill out the questionnaire.
Off Campus: If you live off campus please visit here and fill out the questionnaire.
GreenAppal Guide
The Appalachian Community is living our commitment to sustainability and you are an integral part of this commitment and this community. The daily choices you make matter. From personal wellness to citizenship, water savings to energy usage, your choices help build a green community- 20,000 strong. Appalachian State University has a major impact on our environment, our local economy, and the health of our community. This represents who we, the Appalachian State Mountaineers, are! Together we can make a difference.
BE WELL (2 OR MORE REQUIRED)
I get a regular checkup. Preventative care is a good habit!
I try to be active everyday.
If I used to be a smoker, I quit, or I am trying. It is better for me and the environment.
I try to drink more water.
FOOD CHOICES (2 OR MORE REQUIRED)
I have researched the environmental impact of my food choices: Campus Dining Local Food.
I opt for personal reusable containers when taking food to go.
I limit my weekly meat consumption.
When I go grocery shopping I buy local and/ or organically produced food when I can.
I understand the impact of and work to reduce food waste.
I utilize the composting program in the dining hall.
I collect compost at my residence hall.
WATER CONSERVATION (2 OR MORE REQUIRED)
I shower for less than 5 minutes.
I only run full loads of laundry in the washer.
I fill up a sink to wash dishes, rather than leave the water running.
I use a reusable water bottle.
I don't flush my meds, instead I utilize a drug takeback program with App State Police or other local options: Permanent Medical Disposal in Watauga County. 
I turn off the water when I am brushing my teeth and/or shaving.
BE ENERGY SAVVY (6 OR MORE REQUIRED, 5+ ENERGY STAR!)
I use LED light bulbs.
I use only LED lights (string lights, etc.) for decorating my space.
I wash my clothes in cold water.
I use a drying rack or clothesline instead of the dryer.
I take the stairs instead of the elevator whenever possible.
I use natural lighting instead of electrical lighting whenever possible.
I unplug appliances when they're not in use.
I don't have a personal printer and also limit the amount I print using campus printers.
THINK BEFORE YOU GO (2 OR MORE REQUIRED)
I use the stairs if able.
Drive smarter! By driving the speed limit you use less gas.
I generally carpool when taking a short trip off campus.
I ride my bike or use AppalCART when possible (appalcart.com).
I choose to walk if the location is within a mile.
I do not have a car on campus.
USE LESS STUFF (4 OR MORE REQUIRED)
When I no longer want an item I donate it or give it away instead of throwing it away.
I clean my space with eco-friendly products.
Instead of buying new things, my friends and I share.
Before purchasing, I make sure I truly need it.
I shop locally when possible.
I purchase quality items to ensure that they last longer.
Overall, I try to consume less.
APPALACHIAN CARES (4 OR MORE REQUIRED)
I am aware of crime reporting on campus.
I am aware of health services on campus.
I am aware of the Safe Ride service on campus.
I am aware of the Counseling Center on campus.
I am aware of recovery services on campus.
I am aware of OASIS on campus.
I am aware of the Sexual Assault Hotline.
I am aware of Suicide Prevention services on campus.
BE GOOD IN YOUR NEIGHBORHOOD (2 OR MORE REQUIRED)
I follow the news to stay informed.
I am respectful of my neighbors and recognize that others may have different lifestyles than me.
I am kind to others.
When able, I volunteer with local organizations.          
WASTE NOT (4 OR MORE REQUIRED)
I do not purchase bottled water.
I frequently shop at thrift stores or used goods stores.
I purchase used books or rent my textbooks whenever possible.
I regularly use reusable bags when shopping.
I donate my unwanted items at the end of each semester to Don't Throw it Away.
I avoid eating with disposable items such as utensils, plates, cups, straws, etc.
I have conducted a waste audit of my personal trash and recycling to see what items I most frequently throw away and have taken steps to reduce my waste.
I bring my own reusable mugs or containers when possible.
I choose a hand dryer over paper towels in public restrooms.
I utilize the recycling and compost programs available to me on campus.
INVOLVEMENT ON CAMPUS (3 OR MORE REQUIRED)
I attend at least one sustainability event per semester.
I belong to one or more environmental groups, either on campus or elsewhere.
In the past 6 months, I have contacted my political representative about making a change to improve my city and/or state's environmental behaviors.
I have recruited at least one other person to participate in the GreenAppal Certification program.
BONUS! (IF YOU ARE LACKING IN ONE SECTION, THESE CAN GIVE YOU EXTRA POINTS!)
I charge my electronics with solar powered chargers.
I sustain myself by exercising regularly and choosing healthy and local food options.
I dispose of my batteries and electronics in the designated bins in the Student Union.