Mountaineer Food Hub & Free Store
Appalachian State University's Mountaineer Food Hub and Free Store is available to students, staff and faculty. The Food Hub serves as a means to address food insecurity and provides staple foods, fresh produce, bread, breakfast items and personal care products.
The Free Store is a means to conserve resources and provides interview clothing, winter gear, school supplies, household items and various other goods.
Location: East Hall, Ground Floor
Hours: 8:30 a.m. - 5 p.m., Monday - Friday
Want to be a volunter? Learn more about volunteering with the Office of Sustainability.
Campus Food Pantry Network
We have worked collaboratively to develop a campus food pantry network that continues to meet the needs of our campus community.
Pantry Locations:
Appalachian Hall - Honors College (First Floor Lobby)
Belk Library (Room 222)
Broyhill Music Center - Hayes School of Music (Room 226)
Everyone Eats Food Pantry (Levine Hall of Health Sciences - Room 542G)
Garwood Hall (Room 231)
John E Thomas - Cratis D. Williams School of Graduate Studies- (Cabinet in hallway outside of room 232)
MS Shook Student Health Service (Miles Annas Building)
Rankin Science West (Room 327)
Reich College of Education (James Center - Suite 105)
Student Success (DD Dougherty - Room 214)
Walker Hall (Room 216)
Wellness and Prevention Services (next to the App State Post Office)
Satellite Locations:
Academy at Elkin - Elkin, NC
Academy at Middle Fork - Walkertown, NC
Hickory Campus (Room 1225)
For more information, please reach out to Jennifer Maxwell, Sustainability Program Director, at maxwelljb@appstate.edu or 828-262-2667.
Donation Opportunities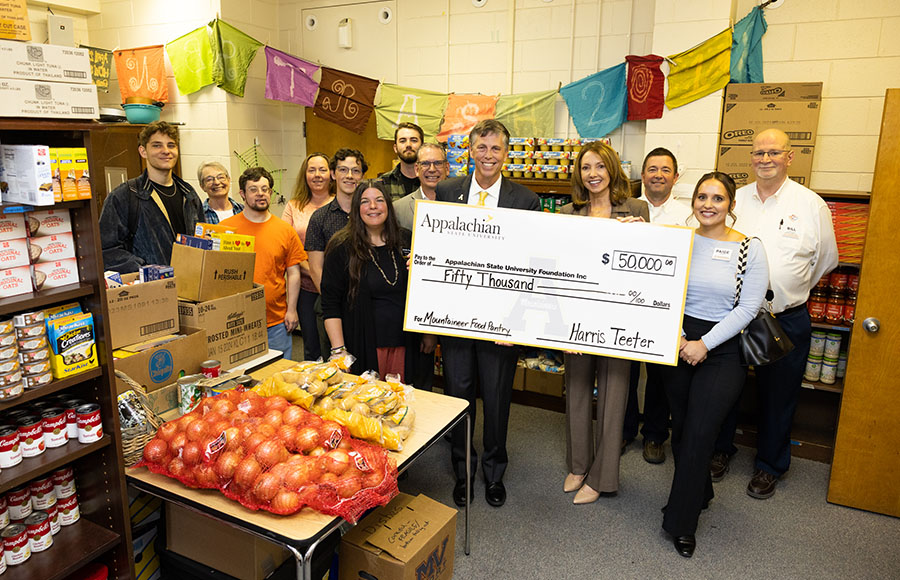 App State's Mountaineer Food Hub receives $50,000 contribution from Harris Teeter
Read the Story →
Food Pantry Wishlist:
Food Items:
Pasta
Sauce (marinara or alfredo)
Beans
Rice
Tuna
Peanut Butter
Jelly
Mac and Cheese
Soup Varieties
Granola Bars
Oatmeal
Cereal
Shelf-stable Milk - soy, almond, oat
Easy to prepare instant meals
Snacks
Oils, spices and condiments
Personal care and feminine hygiene products:
Toothbrushes
Toothpaste
Deodorant
Shaving items
Shampoo
Conditioner
Body Wash
Soap
Tampons
Pads
Laundry Detergent
Dryer Sheets
Dish Soap
Hand Soap
Free Store Wishlist:
Coats
Hats
Gloves
Scarves
Socks
Interview Attire
Kitchen Equipment
Household Items
School Supplies
Shoes
Campus Resources
Below is a list of campus resources provided for the health and well-being of the App State campus community:
Appalachian Cares
Appalachian Cares is your source for wellness, health and safety information, resources and support for the campus community. Wellness, health and safety for all individuals is a top priority at App State. As you navigate the challenges of student life, there are many dedicated people and excellent resources to help. Appalachian Cares website
Case Management
Case Management is a department within the Office of the Dean of Students that provides individualized support to students, no matter their identity, navigating a myriad of concerns. Some of these concerns may include, but are not limited to, complex personal situations, extenuating circumstances, general welfare, interpersonal violence, health and wellness, and safety concerns that impact students academically. Case Management website
Counseling and Psychological Services
The Counseling and Psychological Services Center offers services to currently enrolled students at App State, at no charge. The scope of services includes: short-term individual counseling, group counseling, short-term couples/family counseling, workshops, educational programming, prevention programs, referral coordination and referral resources consultation. Counseling and Psychological Services website
Counseling for Faculty and Staff
Counseling for Faculty and Staff provides counseling, consultation, training and referrals for concerns that impact both the personal and professional lives of App State faculty and staff. Services available to faculty, staff and their immediate families include the following: free and confidential counseling, consultation, workshops and training seminars, and guidance for making referrals to colleagues or employees. Counseling for Faculty and Staff website
Faculty and Staff Emergency Loan Fund
The Emergency Loan Fund provides zero-interest emergency loans to App State faculty and staff experiencing a financial hardship. Faculty and Staff Emergency Loan Fund website
Wellness and Prevention Services
The Department of Wellness and Prevention Services offers educational programs on topics such as nutrition, sexual health, drugs, alcohol, tobacco, stress and sleep. The department hosts events designed to empower students about the importance of self-care and also offers a variety of individual and group services to help students maintain wellness throughout their college careers. Wellness and Prevention Services website
Local Community Resources
Cooking with Purpose
Cooking with Purpose (CwP) is coordinated by the Office of Sustainability in collaboration with faculty across App State — at the nexus of sustainability, budget, nutrition, waste and community. CwP empowers App State students and community with the knowledge, skills and confidence to prepare healthy, sustainable and affordable meals.
Each semester, 20 students are selected to participate in the program, with priority given to students who use App State's campus food pantries. Five meetings are held during the semester, both in person and online, to establish community. The program's recipes are designed to integrate inexpensive, sustainable ingredients with unique flavors and cooking methods that minimize time and energy consumption.