Green Workplace Certification
Appalachian State University strives to continue to expand our sustainability education by offering faculty and staff the opportunity to become more sustainable in the workplace. This certification is meant to be a tool to educate and develop habits that promote a more sustainable office environment.
We have a goal of 45 certified offices by July 2020. As of January 2020, there are 36 offices in the program, impacting 504 people.
Download this information as a PDF here.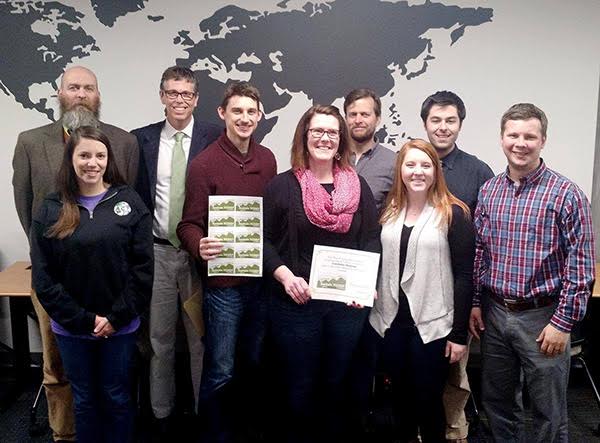 The ACT Office in Plemmons Student Union achieved the Grandfather Mountain level in the Green Workplace Certification program.
This certification recognizes campus work spaces that have taken extra steps to ensure they are contributing to the sustainability goals of App State by greening their space, and lowering their daily impact.  
Certification is contingent on completing all prerequisites and filling out the online form. This certification is completely voluntary, and the Office of Sustainability will offer advice and assistance if requested. The certification lasts for three years, but can be completed as often as you choose to achieve a higher score.
Use the certification as a way to promote sustainable actions within your workplace! The Sustainability Categories are as follows:
Energy & Water
Food & Events
Health & Wellness
Purchasing
Service & Community Engagement
Social Justice
Transportation
Zero Waste
Certifications levels (a reflection of our local landscape):
Rocky Knob - 65-115
Howard's Knob - 116-165
Elk Knob - 166-215
Grandfather Mountain - 216+
Sustain Yosef Workplace Certification Checklist (color version)
Please review prior to signing up to go through the Certification Process.
These items need to be completed before completing the Workplace Certification Form:
Assign a sustainability coordinator to liaison with the Office of Sustainability
Send an email to sustainability@appstate.edu for a consultation.
Implement the mini-bin system for waste collection (containers available at central warehouse)
Schedule a "Zero Waste" training with the Office of Sustainability by calling 262-2659
Sign the Appalachian Sustainability pledge
Familiarize yourself with the Sustain Office website: sustain.appstate.edu
Familiarize yourself with the Diversity and Inclusion website: diversity.appstate.edu
Familiarize yourself with the provided resources
Once you have contacted our office and assigned a liaison, we will consult with you and provide the workplace certification form.
Certified Offices and their Achievement Levels:
Office of the Chancellor—Grandfather Mountain
College Access Partnerships—Grandfather Mountain
Office of Sustainability—Grandfather Mountain
Turchin Center for the Visual Arts—Grandfather Mountain
Office of Arts and Cultural Programs—Grandfather Mountain
ACT—Grandfather Mountain
Dean's Office (Walker College of Business)—Grandfather Mountain
Department of Computer Information Systems (Walker College of Business)—Grandfather Mountain
University Communications—Grandfather Mountain
Department of Management (Walker College of Business)—Grandfather Mountain
Office of Transfer Services—Elk Knob
Outdoor Programs—Elk Knob
Financial Aid—Elk Knob
Geography and Planning—Elk Knob
Facilities Operations Administration—Elk Knob
Appalachian Energy Center—Elk Knob
Energy Office—Elk Knob
Academic Affairs—Elk Knob
Office of International Education and Development—Elk Knob
Prospect Management and Research—Elk Knob
Student Health Services—Elk Knob
Student Learning Center—Elk Knob
Biology Department—Elk Knob
The McCaskey Center (Campus Activities)—Elk Knob
Department of Communication—Elk Knob
Department of Marketing and Supply Chain Management—Elk Knob
Dean's Office, Beaver College of Health Sciences—Elk Knob
Office of Research—Elk Knob
Office of Student Engagement and Leadership—Elk Knob
Office of Title IX Compliance—Howard's Knob
College of Arts and Sciences—Howard's Knob
Student Government Association—Howard's Knob
Department of Family and Child Studies—Howard's Knob
Management Department (Walker College of Business)—Howard's Knob
Reich College of Education-Office of the Dean—Howard's Knob
Office of the Registrar-Office of the Dean—Howard's Knob
Dean's Office, College of Fine and Applied Arts—Howard's Knob