The App State GreenLabs Program is designed to educate and empower campus labs to work toward laboratory sustainability. Through management, training and collaboration, labs will work toward sustainable purchasing practices and sharing resources, energy and water conservation, and waste reduction efforts. The goal of this program is to reduce the carbon footprint of these areas of campus.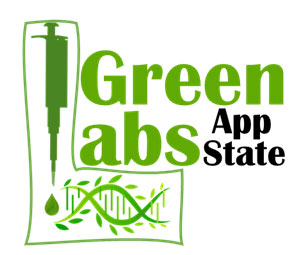 Energy Savings Campaign
The Green Labs Committee, in collaboration with the Lab Safety Committee, will be developing an energy savings campaign focusing on the following areas:
Switch Off – turn off equipment whenever feasible; utilizing stickers to identify equipment that can be turned off at the end of the day, turned on as needed, or left on continuously
Shut the Sash – closing the sash on fume hoods when not in use
Chill Up – moving the set storage temperature on ultra-low temp freezers from -80C to -70C when possible.
Links to studies and programs that discuss what can and can't be stored at -70 instead of -80:
Energy Management
Fume hoods, by design, consume a massive amount of energy. Conditioned air, whether it's cooled or heated, is continually exhausted and the incoming supply air that is intended to replace the exhausted air must also be conditioned in order to maintain occupant comfort. When the university entered into an energy saving performance contract in 2012, a demand controlled ventilation system that senses air quality and occupancy around hoods was installed. This has been effective at reducing energy consumption of fume hoods, typically by 50%.
Even with these significant reductions, fume hoods still represent one of the most energy intensive processes on campus. Recent efforts have focused on ensuring that the fume hoods are operating as they are intended. When fume hoods receive their annual recertification testing, App State staff and a third-party contractor recently adjusted more than 20 fume hoods so that the average face velocities were as close as possible to the school's standard of 100 feet per minute. With fume hoods running constantly, even minor adjustments can have a big impact
Areas for Future Project Ideas:
Chemical Storage and Use
Hazardous Waste and Chemical Inventory Efforts
Management/training
Purchasing
Waste Reduction and Recycling