In partnership with Athletics and Facilities Operations, the Office of Sustainability at App State has worked to transform App State's Kidd Brewer Stadium experience to a Zero Waste initiative through thoughtful purchasing decisions, reducing consumption and increasing recycling and composting.
Zero waste efforts on game days serve as an opportunity to educate and lead by example, creating a sustainability experience in which fans leave their impact on the waste stream at App State. These collective efforts of office staff, volunteers and campus partnerships result in leadership and educational opportunities that extend beyond "The Rock."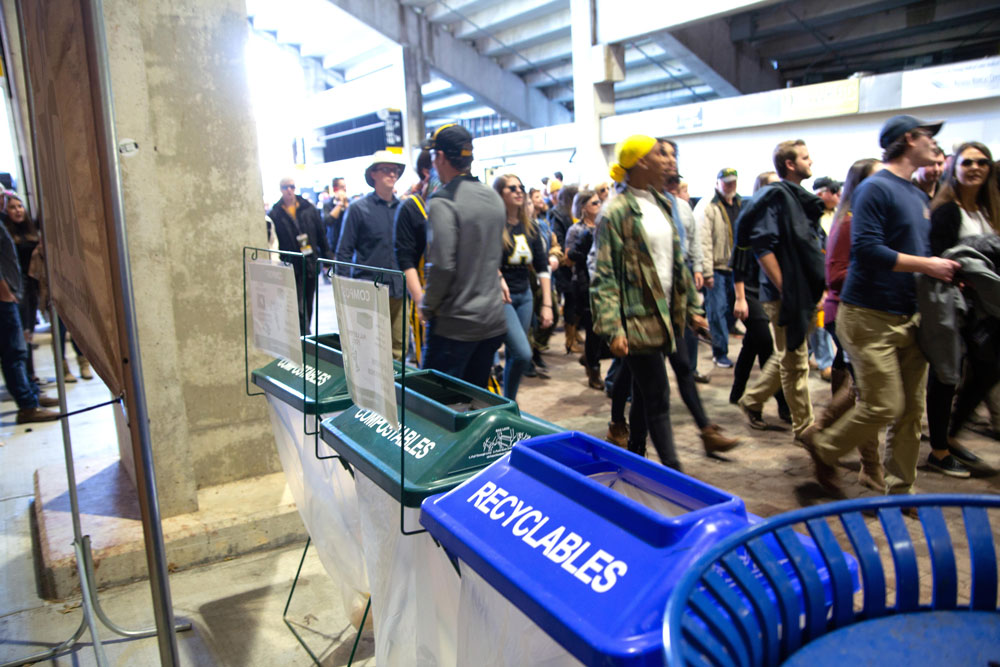 What can a fan expect?
Recycle at The Rock tailgate recycling: Recycling bags and trash bags will be handed out by staff/volunteers in all tailgate lots, so please be sure to recycle your bottles, cans and clean cardboard!
Recycle (blue), compost (green) and waste (gray/black) containers are available throughout the stadium.
Fans are encouraged to recycle plastic, glass, metal and clean paperboard products in blue recycling receptacles.
Compost leftover food waste and paper products in green compost carts located throughout the stadium.
The new Locker Room Grab and Go station will include more aluminum cans and less plastic products for better environmental sustainability.
Fun facts
Recycle at The Rock tailgate and stadium recycling efforts began in 2008.
Compost collection and zero waste efforts in the stadium began in 2014.
In 2015, the program expanded to the Athletics Center, including catering and the Chancellor's Suite in zero waste efforts.
Prior to the pandemic, an average of 75% diversion through compost and recycling was achieved each season.
The postgame stadium cleanup ensures zero waste principles are considered through separation of waste and recycling.
New for the 2023 season, App State will implement additional postgame waste sorting opportunities to further increase diversion numbers and engage volunteers in hands-on service opportunities, contributing toward a more sustainable event.