Items ACCEPTED for Mixed Recycling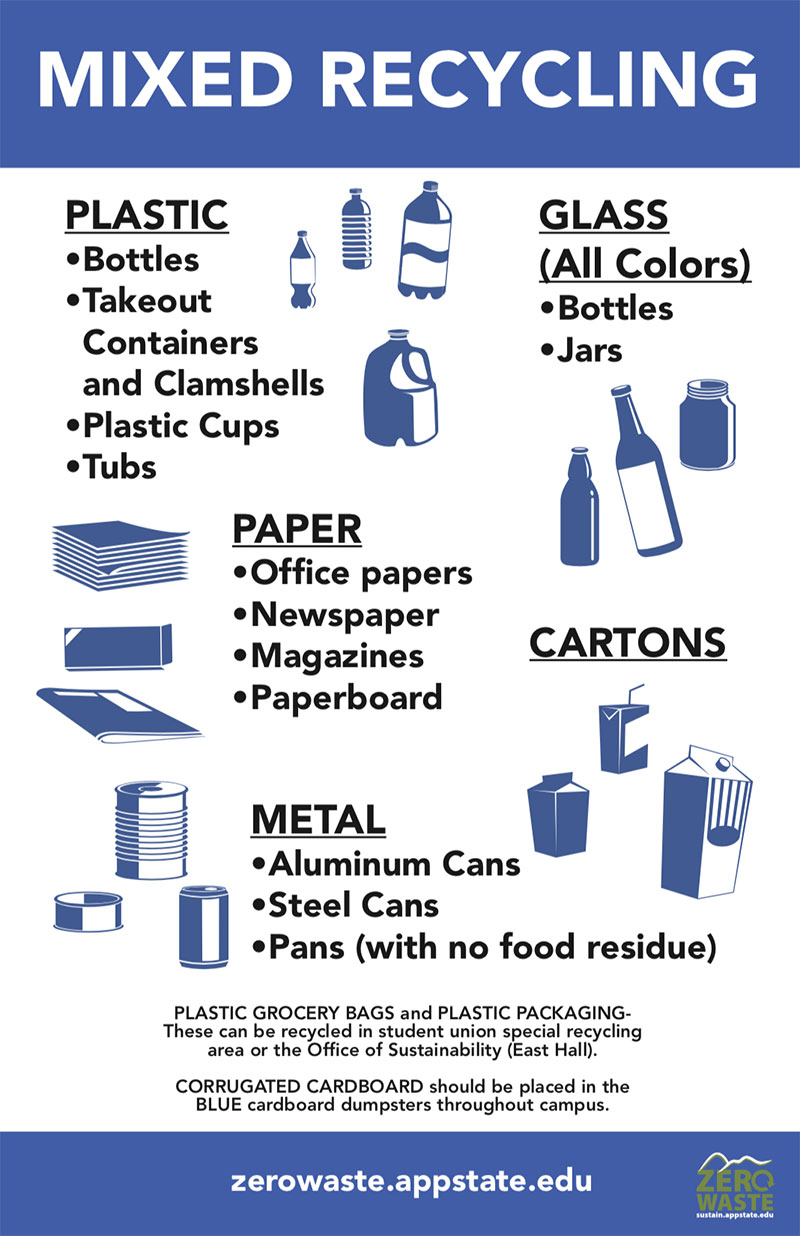 Plastic

Bottles and Containers (#1-7)
Cups and tubs (#1-7)
Yogurt containers

Paper

White copy paper
Colored paper
White paper with colored ink
Envelopes
Legal paper
Manila folders
Post-it notes
Magazines and catalogues (staples are okay)
Note cards
Newspaper
Pasteboard (Cereal boxes, soda/beverage containers)
Paper bags
Wrapping paper

Metal

Aluminum cans
Foil (no food residue)
Steel/Tin cans
Pie plates (no food residue)
Aluminum baking pans and trays (no food residue)
Metal lids

Glass (all colors accepted)
Corrugated cardboard should be placed in the BLUE cardboard dumpsters throughout campus.
Plastic Film Recycling Program
Plastic Grocery Bags and Plastic Packaging- These can be recycled separately through our plastic film recycling program and can be brought to the student union special recycling area or the Office of Sustainability (East Hall). Please DO NOT place these in your mixed recycling bins as they must be kept clean and dry in order to be recycled!
Plastic Grocery Bags
Plastic wraps (bread bags and shrink wrap)
Plastic package inserts- please pop to remove air first
Bubble wrap
Shredded Paper Recycling
Shredded office paper can be recycled the following way:
Put your shredded paper in a clear plastic bag by itself
Secure the bag opening (to assure there is nothing in the bag except shredded paper)
Placing the bag beside your office's recycling bin
Landfill Items NOT ACCEPTED for Mixed Recycling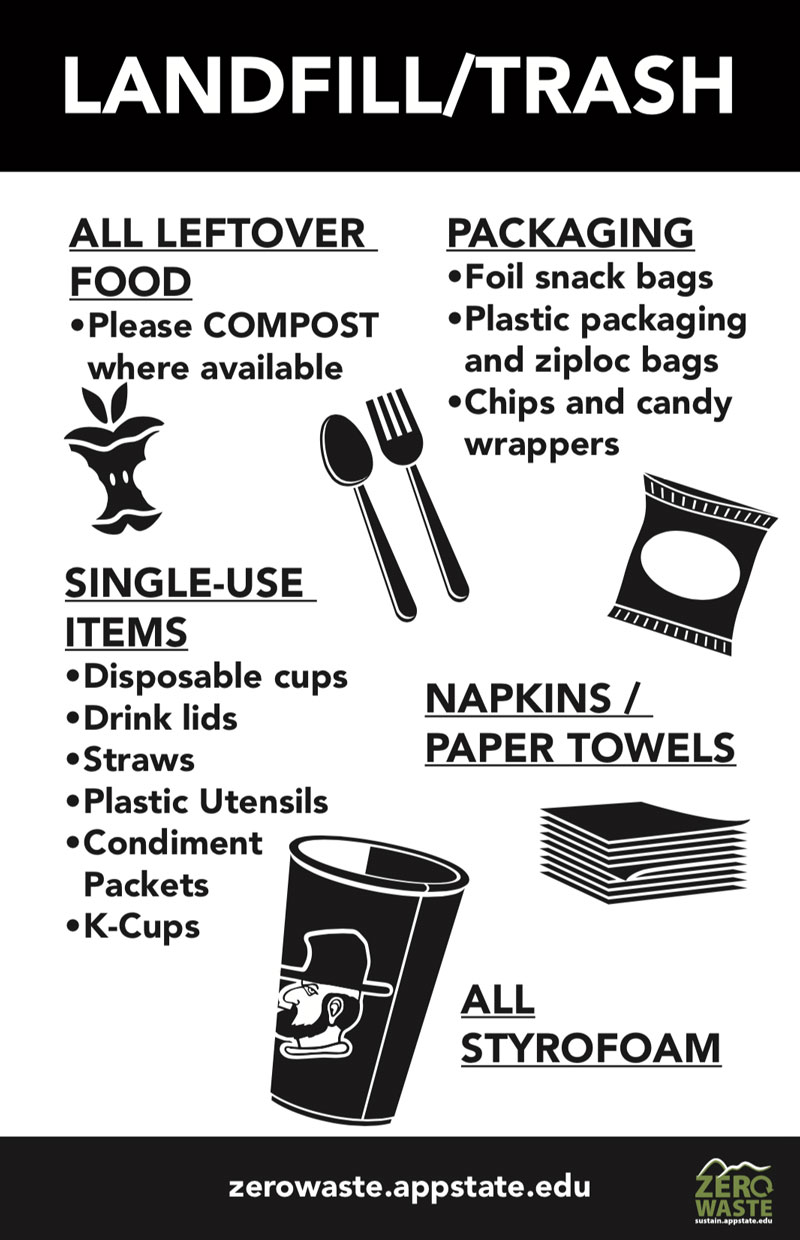 Food Waste

(please COMPOST where available)
Single Use Disposable Items

Disposable Cups
Drink lids and straws
Plastic Forks, knives, spoons, sporks
Condiment packets and cups
Paper Plates
Hygiene Items such as used napkins, paper towels and tissues
Saran Wrap
Foil snack bags
Plastic snack packaging and Ziploc bags
Chips and candy wrappers
String / Twine
Styrofoam
Incandescent light bulbs
Ceramics, mirrors, pyrex glass
Hazardous waste (paint, glues, pesticides, etc)
Special Recycling in Student Union
Plastic Film Recycling (plastic grocery bags, plastic wraps such as bread bags, shrink wrap, plastic packaging, bubble wrap).

No Food Residue! These items must be clean and dry!

Can also be dropped off at the Office of Sustainability in the basement of East Hall
Computer Equipment
CDs and DVDs
Cell Phones and Accessories
Techno-trash (storage devices, floppy disks, hard drives, Zip disks, i-pods, empty print cartridges, cables, cords, circuit boards, video tapes, PDA's, etc.)
Batteries
Printer Cartridges
CFL bulbs (place in sealed plastic bag and drop off at the information desk)
Special Recycling in Anne Belk Hall at Technology Support Services
Computer Equipment
CDs and DVDs
Cell Phones and Accessories
Techno-trash (storage devices, floppy disks, hard drives, Zip disks, i-pods, empty print cartridges, cables, cords, circuit boards, video tapes, PDA's, etc.)
Batteries
Printer Cartridges
CFL bulbs (place in sealed plastic bag and drop off at the information desk)