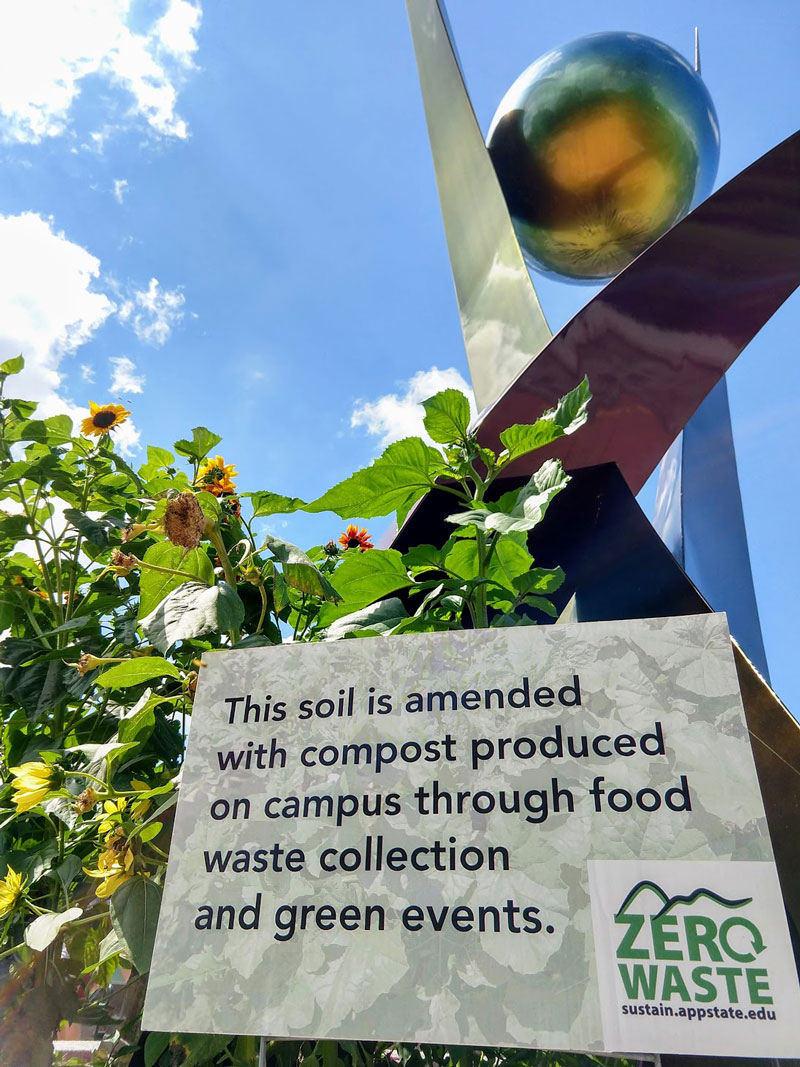 Appalachian State University has been composting on campus since 1999 and has a lasting commitment to organics recycling. The facility is permitted in the state of NC as a Type III compost facility, which has the ability to accept yard/garden waste, wood waste, pre- and post-consumer food wastes including meats and dairy, as well as some manure and agricultural waste. This program began as a grassroots approach to food waste collection, and with the help of a local partner, Advanced Composting Technologies from Candler, NC, has developed into one of the most successful programs in the country.
In addition to the ability to process waste right here on campus through a closed loop system, this program has many added benefits with regard to research opportunities, internship potential, and a demonstration for other communities.
If you are interested in participating in this program you can choose your own compost collection container and are responsible for maintaining and emptying your own items into the collection carts. Old yogurt tubs, empty protein shake containers, or tupperware items work well for collection. Please do not bring off-campus materials onto campus for composting.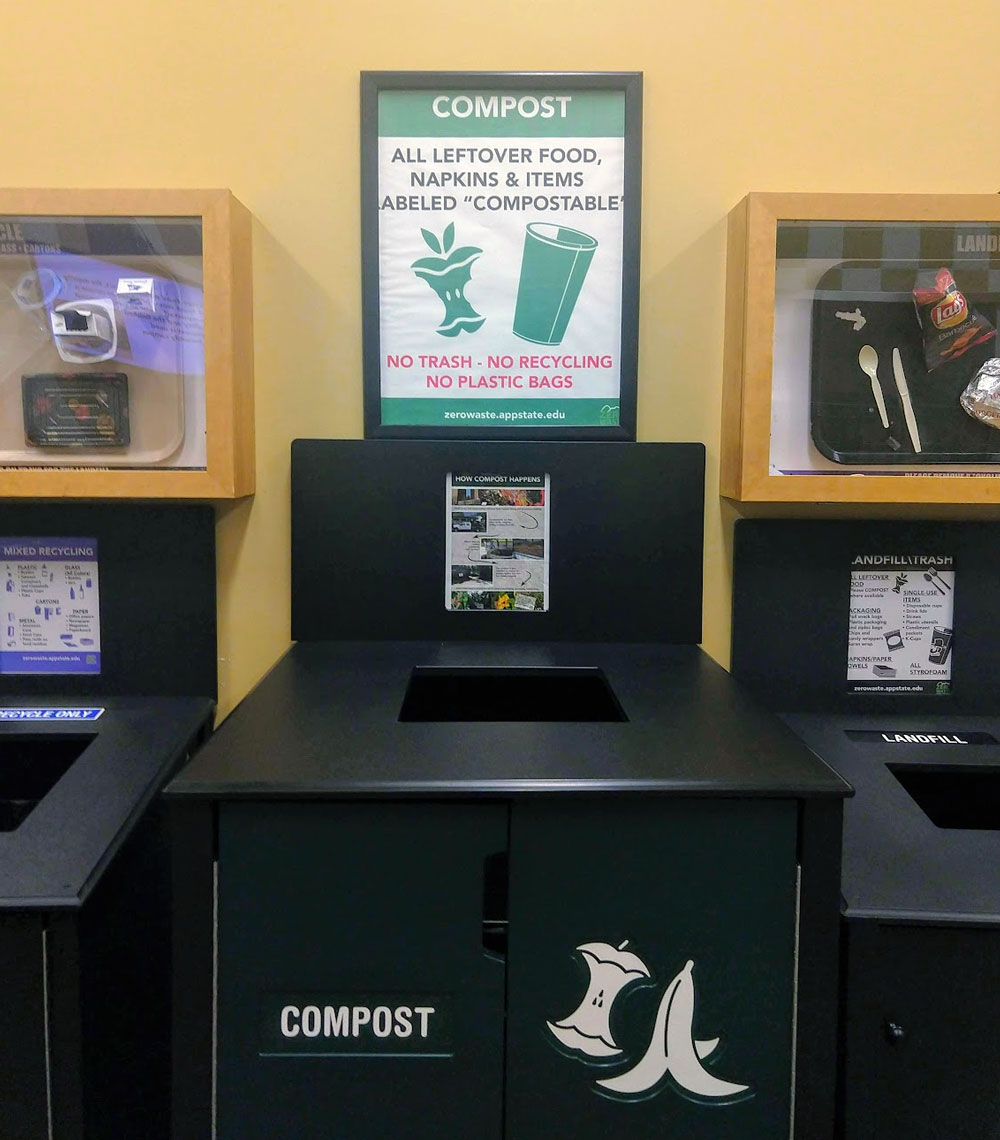 Compost collection in Rivers Street Cafe is conveniently located in the tray room. Please help out and pay attention to the items that are accepted in this bin.
Where can I compost?
Crossroads Coffee Shop
Doughton Hall
Garwood Hall
Ivory Towers Brewery
Leon Levine Hall
Lucy Brock Child Development Center
Miles Annas Hall
North End Zone Facility
Office of Sustainability (East Hall)
Outdoor plaza between Anne Belk and Varsity (next to Sanford Mall)
Peacock Hall- Coffee shop- 2nd floor
Plemmons Student Union
Reich College of Education
Roess Dining Hall (outdoor dining plaza)
Roess Dining- River St. Tray Room
Sanford Mall ( next to the "Aspire" statue)
Student Recreation Center
Summit Hall
Trivette Hall
Trivette Plaza
Wired Scholar Coffee Shop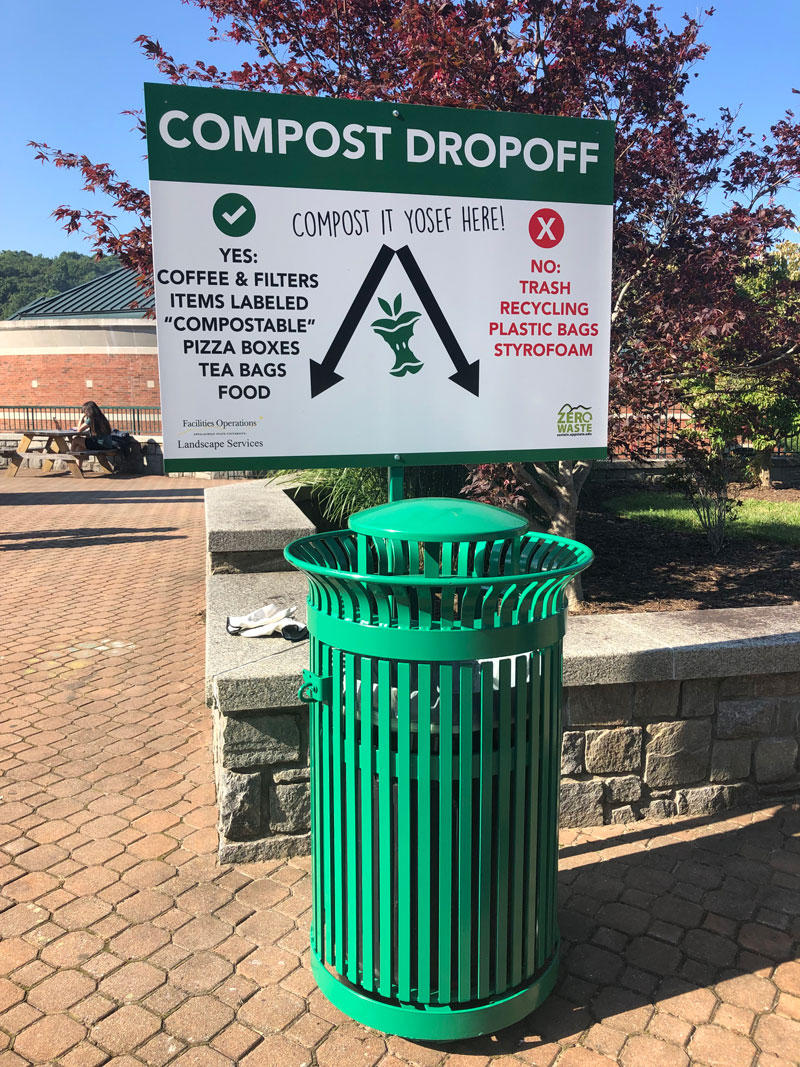 The Sanford Mall compost drop off site is one of many compost collection sites on campus.
Items accepted for composting:
All leftover food
Empty Pizza boxes
Paper - To-Go Boxes, Napkins, Paper towels, Wax deli paper
Coffee filters & grounds
Items labeled "compostable"
Tea bags
Questions? Contact sustainability@appstate.edu