July 30, 31 & August 1, 2018
Student Summit Agenda (PDF)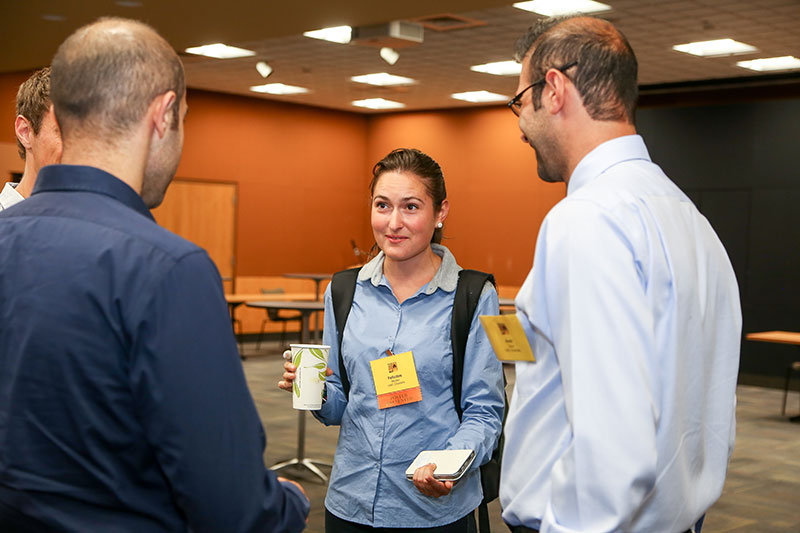 The student summit, which runs concurrently with the regular summit, provides student attendees the opportunity to connect with peers and industry leaders.
The Student Summit runs in parallel with the Appalachian Energy Summit and is primarily student led and organized. Come join us for three days of inspiring speakers, networking with industry professionals, and great learning experiences. Our goal is to inspire students to take innovative ideas pertaining to energy and sustainability to their universities, and to learn more about energy and sustainability in the region and nation. Participants include undergraduate, graduate and doctoral degree students.
The theme for both the Appalachian Energy Summit and the Student Summit this year is "Leadership for Good". The cost of attending is free, with accommodation and food provided during the Summit.
Working Groups
This year the Student Summit will feature Working Groups during the Wednesday afternoon session. These groups will provide students the opportunity to engage in conversation, and share experiences about specific areas of interest, with their peers.
GreenFunds – Barriers, Opportunities, Best Practice & Success Stories
Led by Sierra Milosh, Student, Chair Appalachian State REI; and 
Paul Matney, Student, outgoing Chair Appalachian State REI
Campus Initiatives in Sustainability
Led by Steven Tulevech, Student, Project Manager, UNC Renewable Energy
Special Projects Committee, UNC Chapel Hill
Careers in Renewable Energy in more depth
Led by Logan Secord, Project Controls Financial Analyst, Strata Solar
Sustainable Investing
Led by Cameron McKinley, Student, Appalachian State University
Register for one of the Student Summit Working Groups
Opportunities include:
Presenting in the Poster Competition
Networking with potential employers
Hearing from world-class speakers
Being a Highlight Speaker
Creating and sharing innovative ideas about energy and sustainability
Student-led workshops as part of the Student Summit
Invitations to the Student Summit are limited to 100 students. Everyone attending will benefit from
the advice and experience of industry partners during a career panel, and develop lasting connections in the networking reception that follows. The Student Summit provides the opportunity for students to drive change and encourage the implementation of clean energy initiatives on their respective campuses.
Contact
Event Coordinators
Anisha Sharma, George Lewis
aesstudentsummit@appstate.edu
The Student Summit is proudly supported by: