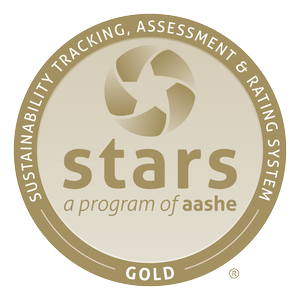 Appalachian State University is a Pilot and Charter participant in the Sustainability Tracking, Assessment & Rating System™ (STARS), a transparent, self-reporting framework for colleges and universities to measure their sustainability performance.
In May 2012, Appalachian received an initial Gold rating
Gold status was renewed in the June of 2015, making Appalachian the second-highest rated university to date (score of 77.24). This score is valid for three years.
"This is a snapshot in time for us to be very proud of,"Dr. Lee F. Ball Jr., Appalachian's interim director of sustainability, said. "It's not easy to get a high score like this."
STARS® is a sustainability focused system, addressing social and economic factors as well as environmental factors. "The breadth and depth of what they ask is really diverse," Ball said.
Universities submit self-reported scores related to 18 categories.
Appalachian achieved 38.22 of 40 points in the academics category which focuses on academic courses, learning outcomes, undergraduate and graduate programs, and immersive experiences. The university reported offering 228 sustainability-related courses at the undergraduate level and 82 at the graduate level. In addition, 876 courses included some aspect of sustainability, from a wide variety of academic programs throughout the university.
The university also received the maximum points available, 20 points, in the campus engagement category and 16 out of a possible 18 points in the research category.
Notable in the public engagement category is the university's sponsorship of the annual Appalachian Energy Summit, which involves all 17 UNC system campuses. Since the summit began in 2011, campuses have generated $499 million in savings system wide, $103 million of which occurred in 2013-14. The system is on track to avoid $1 billion in utility costs by 2020 and $2 billion by 2025.
The complete report is available online at https://reports.aashe.org/institutions/appalachian-state-university-nc/report/2019-04-19/.