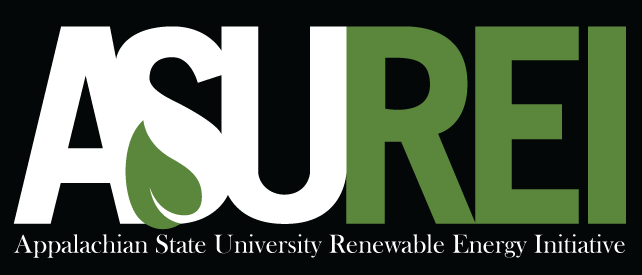 View the Renewable Energy Dashboard
Over the past decade, Appalachian State University has amassed the largest and most diverse portfolio of Renewable Energy Facilities in the state of North Carolina. These systems are producing amazing educational opportunities, reasonable amounts of reliable and useable power for our community* and serve as perhaps the most outwardly visible expression of App State's commitment to environmental sustainability.
Appalachian has enjoyed a longstanding commitment to the promise of sustainability. In 2006, we solidified our resolve at the highest level when then-Chancellor Ken Peacock signed the American College and University's Presidents Climate Commitment (ACUPCC). The focus of this commitment is our response to global climate change with the epicenter of the conversation being the use of fossil fuels. Appalachian State has responded with a strong investment in Renewable Energy.
In the interest of bringing our renewable energy resources into a place of relevance and familiarity with our community, we invite you to explore our website to see and learn about the systems that we have employed as we seek to set for the university, a clear path to a holistic picture of energy use.
*an estimated 800,000 kWh to date
UNC System renewable capacity (current as of January 2015) is: 213 kW solar PV, 100 kW wind, and 1060 kW landfill gas, with 9 solar thermal installations.
To start learning more about renewable energy in general, we recommend that you start here.
Walker College of Business Sustainability
This Project was put on in collaboration between the Office of Sustainability, the Walker College of Business, and MAMAC. The idea is that by using MAMAC's monitoring systems and display systems we could put up a display both in the Walker College of Business and online so that people would be made aware of how much energy is being used and produced by the Walker College of Business while providing a platform for the Walker College of Business to display its own sustainability messages. Hopefully through increased awareness Electric and water use can be decrease and sustainability can be brought to the forefront.
Check out the display here!