Student Summit 2017 - Speakers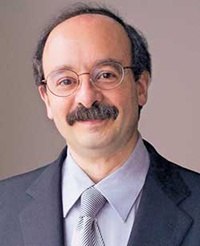 Amory B. Lovins
Chief Scientist, Rocky Mountain Institute
Amory B. Lovins, an American consultant experimental physicist and 1993 MacArthur Fellow, has been active at the nexus of energy, resources, economy, environment, development, and security in more than 50 countries for over 40 years, including 14 years based in England. He is widely considered among the world's leading authorities on energy—especially its efficient use and sustainable supply—and a fertile innovator in integrative design and in superefficient buildings, factories, and vehicles.
After two years at Harvard, Mr. Lovins transferred to Oxford, and two years later became a don at 21, receiving in consequence an Oxford ma by Special Resolution (1971) and, later, 12 honorary doctorates of various U.S. and U.K. universities. He has been Regents' Lecturer at the U. of California both in Energy and Resources and in Economics; Grauer Lecturer at the University of British Columbia; Luce Visiting Professor at Dartmouth; Distinguished Visiting Scholar at the University of Oklahoma; Distinguished Visiting Professor at the University of Colorado; Oikos Visiting Professor of Business, University of St. Gallen; an engineering visiting professor at Peking U.; 2007 MAP/Ming Professor at Stanford's School of Engineering; and 2011– Professor of Practice at the Naval Postgraduate School.
During 1979–2002, Mr. Lovins worked as a team with L. Hunter Lovins (his wife 1979–99). They shared a 1982 Mitchell Prize, a 1983 Right Livelihood Award (often called the "alternative Nobel Prize"), the 1999 Lindbergh Award, and Time's 2000 Heroes for the Planet Award. In 1989 he won the Onassis Foundation's first Delphi Prize for their "essential contribution towards finding alternative solutions to energy problems." That contribution included the "end-use / least-cost" redefinition of the energy problem (in Foreign Affairs in 1976)—asking what quantity, quality, scale, and source of energy will do each task in the cheapest way. This economically based approach first permitted successful foresight in the competitive energy-service marketplace. In 1993 he received the Nissan Prize for inventing superefficient ultralight-hybrid cars (www.hypercar.com), and in 1999, partly for that work, the World Technology Award (Environment). He also received the Heinz Award, the Happold Medal of the [UK] Construction Industry Council, the Benjamin Franklin Medal of the [UK] Royal Society of Arts (Life Fellow), and in 2007, the Blue Planet Prize, Volvo Prize, honorary membership of the American Institute of Architects, Foreign Membership of the Royal Swedish Academy of Engineering Sciences, Time International's Hero of the Environment award, Popular Mechanics' Breakthrough Leadership award, and honorary Senior Fellowship of the Design Futures Council. In 2008 he was named one of America's 24 Best Leaders by U.S. News & World Report and Harvard's Kennedy School, and received the first Aspen Institute / National Geographic Energy and Environment Award for Individual Thought Leadership. In 2009, he received the National Design Award and an Ashoka Fellowship, while Time named him among the world's 100 most influential people, and Foreign Policy, one of the 100 top global thinkers. In 2011, he was co-Runner-Up for the Zayed Future Energy Prize.
In 1982, the Lovinses cofounded Rocky Mountain Institute (www.rmi.org), an independent, entrepreneurial, nonprofit think-and-do tank. RMI's ~80 staff drive the efficient and restorative use of resources to help make the world thriving, verdant, and secure, for all, for ever. Ms. Lovins left RMI in 2002; Mr. Lovins is now its Chief Scientist and Chairman Emeritus. The Institute's ~$12-million annual revenue comes both from programmatic enterprise, chiefly private-sector consultancy, and from grants and donations. RMI's balance sheet comes largely from Mr. Lovins's having cofounded, led, spun off, and in 1999 sold (to the Financial Times group) E source, the premier source of information on advanced electric efficiency (www.esource.com).
Mr. Lovins has briefed 23 heads of state, given expert testimony in eight countries and 20+ states, delivered thousands of lectures, and published 31 books and over 480 papers, as well as poetry, landscape photography, music (he was a pianist and composer), and an electronics patent. In 1980–81 he served on the U.S. Department of Energy's senior advisory board, and in 1999–2001 and 2006–08, on Defense Science Board task forces on military energy strategy. He is a member of the Chief of Naval Operations' Advisory Board and the National Petroleum Cuncil. In 1984 he was elected a Fellow of the American Association for the Advancement of Science "for his book Soft Energy Paths and many other noteworthy contributions to energy policy," in 1988, of the World Academy of Arts and Sciences, and in 2001, of the World Business Academy. Dr. Alvin Weinberg, former Director of Oak Ridge National Laboratory, called him "surely the most articulate writer on energy in the whole world today"; Newsweek, "one of the Western world's most influential energy thinkers." Dr. John Ahearne, then Vice President of Resources for the Future, remarked that "Amory Lovins has done more to assemble and advance understanding of [energy] efficiency opportunities than any other single person." The Wall Street Journal's Centennial Issue named him among 39 people in the world most likely to change the course of business in the 1990s; Car called him the 22nd most powerful person in the global car industry; and The Economist wrote in 2008 that "history has proved him right."
An occasional advisor to the National Association of Regulatory Utility Commissioners and World Business Council for Sustainable Development, Mr. Lovins has addressed hundreds of fora sponsored by such groups as The Engineering Foundation, Association of Energy Engineers, ASHRAE, Society of Automotive Engineers, Royal Academy of Engineering, National Academy of Sciences, American Physical Society, International Association for Energy Economics, Montreux Energy Forum, Institution of Electrical Engineers, McKinsey and Company, Accenture, Merrill Lynch, JPMorgan, Allen & Co., News Corporation, Fortune, Forbes, Time, ULI, IDRC, CoreNet, AIA, API, AAPG, AGA, EEI, EPRI, CRIEPI, Hoover and Brookings Institutions, CSIS, Chatham House, Council on Foreign Relations, Pacific Council, Commonwealth Club, Keidanren, Conference Board, World Economic Forum, Tällberg Conference, TED, FiRE, eg, World Bank, GBN, Highlands Forum, NPS, NWC, NDU, DAU, Aspen Design Conference, Royal Society, and Royal Society of Arts. He collaborates on landscape photography and orangutan conservation with his wife, fine-art landscape photographer Judy Hill Lovins (www.judyhill.com).
---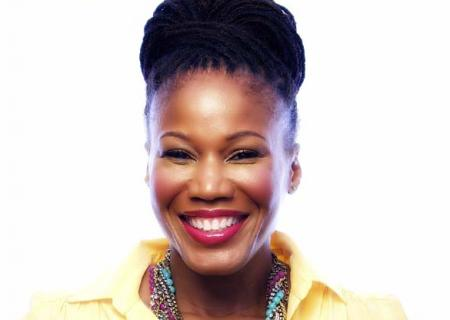 Majora Carter
Urban Revitalization Strategist
Majora Carter is probably the only person to receive an award from John Podesta's Center for American Progress and a Liberty Medal for Lifetime Achievement from Rupert Murdoch's New York Post. Fast Company named her one of the 100 Most Creative People in Business; The New York Timesdescribed her as "The Green Power Broker"; and the Ashoka Foundation's Changemakers.org recently dubbed her "The Prophet of Local."
Carter hosts the Peabody Award-winning public radio series "The Promised Land" and serves on the boards of the US Green Building Council and The Wilderness Society. She has a long list of awards and honorary degrees, including a MacArthur "Genius" Fellowship.
Carter founded and led Sustainable South Bronx, from 2001 to 2008, when few were talking about "sustainability" - and even fewer in places like the South Bronx.
By 2003, Carter coined the phrase "Green the Ghetto" as she pioneered one of the nation's first urban green-collar job training and placement systems, and spearheaded legislation that fueled demand for those jobs. Her 2006 TEDtalk was one of six presentations to launch that groundbreaking website.
Since 2008, Carter's consulting company has exported climate adaptation, urban revitalization, and leadership development strategies for business, government, foundations, universities, and economically underperforming communities.
---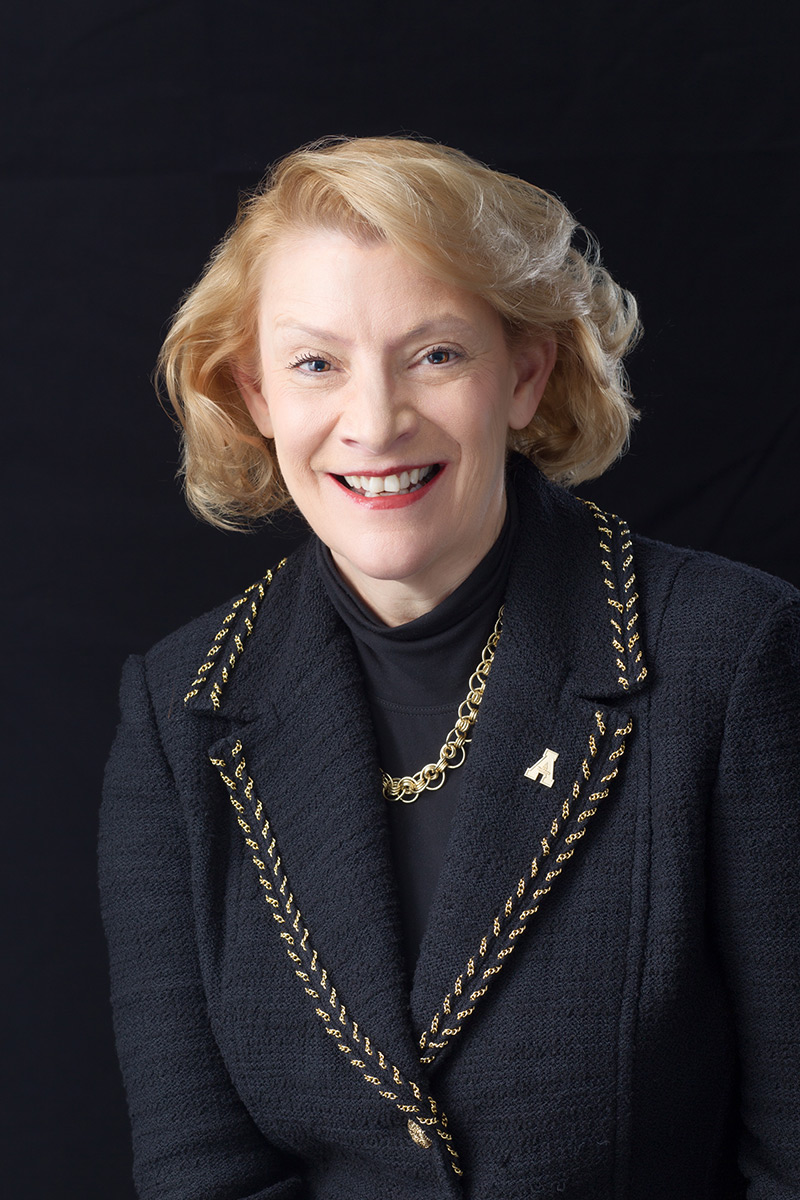 Dr. Sheri N. Everts
Chancellor, Appalachian State University
Dr. Sheri N. Everts joined Appalachian State University as its seventh leader in July 2014. Previously, she had been provost and vice president for academic affairs at Illinois State University since 2008. A Nebraska native who attended elementary school in a one-room schoolhouse, Everts graduated from the University of Nebraska-Lincoln in 1980 with a bachelor's degree in English instruction and secondary education. After teaching middle school and high school English in Kansas and Nebraska, she returned to UNL, where she earned a master's degree in literacy education and English (1991) and a doctorate in administration, curriculum and instruction (1994).
Everts began her higher education career in 1994 as an assistant professor in the Department of Teacher Education at the University of Nebraska Omaha. Rising through the academic and administrative ranks at UNO, she was named assistant vice chancellor for academic and student affairs in 2000, promoted to associate vice president in 2003, and named interim senior vice chancellor for academic and student affairs in 2006. She served in that interim capacity until June 30, 2008, when she left Nebraska to become provost and vice president for academic affairs at Illinois State University and also served as interim president at ISU.
In recommending Everts to the Board of Governors in March 2014, UNC President Tom Ross said, "Sheri Noren Everts brings to the task two decades of academic and leadership experience at highly respected public universities. At each step along the way, she has proven herself to be an energetic and effective leader who encourages creative problem-solving, promotes collaboration and inclusiveness, and demonstrates a passionate commitment to academic excellence and student success. She has also earned a reputation for great integrity, sound judgment, and a strong commitment to community engagement, outreach and partnership."
Chancellor Everts spent her first year at Appalachian intently listening to faculty, students, staff, alumni and friends and using this invaluable input to begin moving forward together. Important accomplishments during the inaugural year include: hiring a new provost to lead Academic Affairs; strengthening and expanding prevention and education related to sexual assault, suicide prevention and drug abuse prevention; reallocating funds to achieve a merit salary pool increase for faculty; establishing the Faculty Club; initiating conversations about affordable housing for faculty and staff; hiring a new athletic director; broadening the Appalachian Energy Summit and deepening the university's commitment to sustainability; completing the $200 million Campaign for Appalachian; and moving from conversations about diversity to action with one result being the admission of the most diverse first year class in university history.
---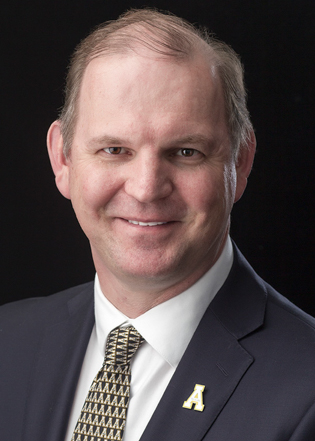 Dr. Darrell P. Kruger
Provost and Executive Vice Chancellor
Dr. Darrell P. Kruger began his tenure as provost and executive vice chancellor at Appalachian State University in July 2015. Dr. Kruger came to Appalachian from the University of New Orleans, where he was dean of the College of Education and Human Development.
Dr. Kruger holds a doctorate in geography from Louisiana State University. In addition to the University of New Orleans, he has held administrative and faculty posts at Illinois State University and been on the faculty at the University of Louisiana at Monroe and Louisiana State University.
Dr. Kruger's historical geography research, publications and presentations focus on South Africa and the U.S., and his fellowship appointments include the Harvard Graduate School of Education's Institute for Educational Management (2012), the American Council on Education (2010-11) and the Fulbright Group Project Abroad, South Africa (2006). He has received numerous awards and recognitions, most recently from the National Geographic Society for more than 15 years of service in promoting grassroots geography education in K-16 in both Illinois and Louisiana.