History of Sustainability
Here environmental stewardship, economic responsibility and social equity create a framework for scholarship and research.
Housing
1992
Housing implemented recycling collection at residence halls
2001
All bulbs were changed out to CFLs
2003
Green Cleaning introduced in residence halls
2004
Building renovations sustainability measures officially considered in renovations
2005
Recycling brought in-housestaff dedicated to collections
2007
Campus mandates all new buildings meet LEED silver criteria
2007
Cardboard recycling containers installed on each residence hall floor
2008
Mattress recycling begins in residence halls
2008
Began participation in Recyclemania (national recycling competition)
2009
Website developed for sustainability in housing
2010
Frank Residence Hall LEED Gold Certified
2010
Sustainability Council reorganized and Housing staff appointed to serve on council
2010
Housing & Dining Subcommittee of Council developed
2012
Mountaineer Residence Hall LEED Gold for Homes certified
2012
Small recycling totes provided to students in rooms for recycling collection
2012
Living Green Residential Learning Community established
2012
LLC Edible Schoolyard established
2013
Cone Residence Hall LEED Gold certified
2013
Single stream recycling introduced across campus and at all residence halls
2013
Winkler Hall demolition96% of all building material recycled
2013
Green Appal Certification begins in residence halls
2014
Social Justice Representative appointed on each Hall Council
2015
Summit Residence Hall LEED Silver certified
2015
Transition to LED bulbs begin (starts in Belk Hall)
2016
GreenApps eco-reps peer-to-peer sustainability education program enacted by Office of Sustainability in partnership with University Housing
2017
Residence hall composting program piloted in LLC, Belk and Frank Halls.
2018
A restructured GreenAppal program was introduced for students. Composting efforts introduced into residence halls, as well as targeted signage and education efforts.
---
Athletics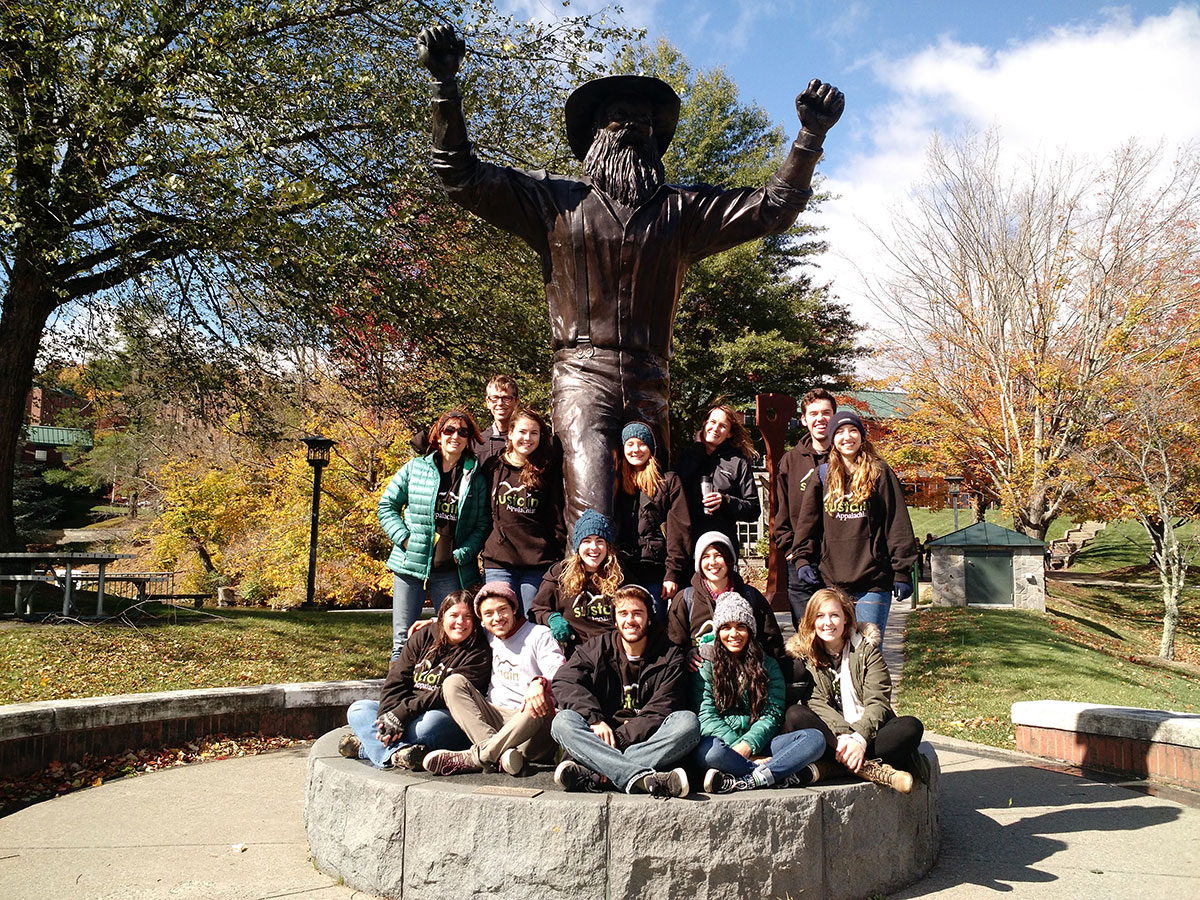 2008
Campus debuted Recycle at the Rock, a program that introduced recycling in Kidd Brewer Stadium and provided recycling bags for tailgating. Over 125,000 pounds of recyclable material have been diverted from the landfill through this program.
2009
The 120,000-square-foot Appalachian Athletics Center opened, with features designed to limit energy usage such as timers and motion detectors on lights, low flow toilets, and sinks with aerators and sensors.
2010
Athletics appointed a liaison to serve as a member of the Sustainability Council.
2013
Athletics sent a representative to the Collegiate Sports Sustainability Summit at Georgia Tech in Atlanta, Ga.
2014
Zero Waste zones were introduced in Kidd Brewer Stadium. These are areas where, with the assistance of trained student volunteers, fans can select the best way to dispose of their recyclable and compostable materials. The first year of the program, 74% of stadium waste was diverted from the landfill.

Appalachian received three gold awards in the EPA's Game Day Challenge, and ranked second in recycling and greenhouse gas emission reduction for the Sun Belt Conference.
2015
The Athletics Center replaced all lighting with high efficiency LED bulbs.
The Zero Waste initiative was expanded to include the Athletics Center, which will eventually include compost and recycling in all suites, catering kitchens, and concessions.

During Thursday night games, a Green Zone Tailgate area included a green-your-tailgate display with tips on how to minimize picnic waste, demonstrations and information about alternative transportation, live music powered by renewable energy, free food provided by campus catering, and information tables and giveaways hosted by sustainability-minded clubs and campus organizations such as the REI, ASUSUS, The Sustainable Transportation Club, and the Solar Vehicle team.
2018
Office of Sustainability takes over stadium cleanup efforts to assure proper waste sorting to increase landfill diversion rates. This includes a massive volunteer effort from groups on campus.