New Community Garden Space Takes Root on Appalachian's Campus
Tuesday, September 19, 2017
If you've taken a stroll on east Howard Street lately, you've probably noticed that a previously vacant lot has taken on new life. Dubbed the Appalachian Roots Garden, this space exists to "demonstrate and promote sustainable agricultural practice, and a sense of place for students and community members," according to Campus Garden Coordinator Julia Showalter. This new garden, conceptualized by Director of Sustainability Lee Ball less than a year ago, bridges the space between Boone and the University in both a literal and a figurative way. "Everyone is welcome here, to learn, to volunteer, to participate," says Dr. Ball. "Students, faculty, interested community members, businesses - everyone can have a stake in this."
The first volunteer work day was this past April, and Showalter considers that the unofficial start of the garden. This model of community involvement has been effective in moving the project forward; there are regular volunteer workdays, and many workshops on topics ranging from making kimchi and kombucha to fashioning wind chimes out of bamboo. The perennial plots and herb garden are open for all to pick from, and the raised beds are divided up between adopt-a-plot, seed saving, and grow-and-donate. Seed saving is a major focus- this practice looks to save the seeds of heirloom vegetables and fruits to collect and preserve for future growing seasons. "Some of the space at the garden is used for saving seeds for the seed library. These seeds are available at the Watauga Public Library for free to community members," says Showalter.
The gardening program has seven interns, who work to build, maintain, plan, and educate. Some of their duties include creating and disseminating informational material such as signage and social media, envisioning new areas such as the Butterfly gardens, and planning exciting school interaction activities. Showalter credits them with coming up with new and creative ideas: "The interns each bring their own ideas and skills to to the space and then work together to create some pretty amazing things! My favorite so far is the willow dome."
The community has gotten involved with the Roots Garden as well. Businesses such as Juice Boone and Starbucks have donated materials for composting and have plans to volunteer, and several other entities, including Blue Ridge Women in Agriculture, Daniel Boone Native Gardens, and Watauga County's Cooperative Extension, are connecting to share knowledge, plants, materials, and labor.
As it turns out, people are keen to get their hands dirty; there are always volunteer groups prepping, building, weeding, or helping as needed. An Upward Bound group has spent every Monday this summer working, and help has also come from Appalachian's Mandela Fellows members, and permaculture and agroecology classes.The garden also welcomes the help of the smallest hands; children from the Lucy Brock Child Development Center have visited on several occasions to plant, water, weed, and learn.
While the Roots Garden may be the most visible of Appalachian's agriculture projects, others exist as well. The Sustainable Development Garden Civic Garden, nestled within the grounds of the Living Learning Center on Bodenheimer Drive, has been in operation for several years, providing hands-on experience for agroecology classes, the Gardening Club, and volunteers on garden work days.
The Teaching and Research Farm and Agroecology Laboratory, located in Fleetwood, is a full scale working farm, located on 35 acres of pasture and 130 acres of woodlands. According to Showalter, "The Sustainable Development farm has really helped us to create the garden space. They have offered up invaluable materials, expertise and plants. We also work together with them with our 'grow and donate' program."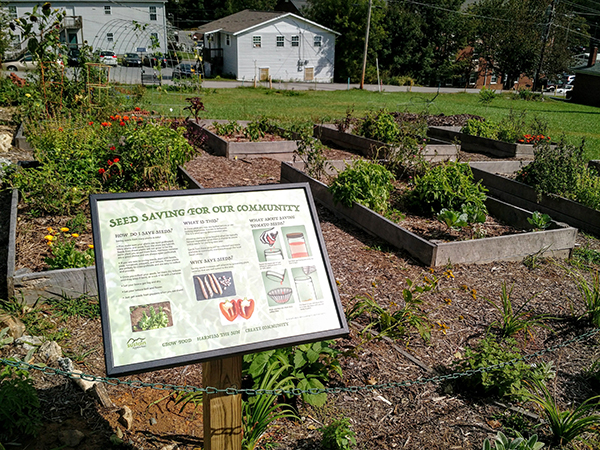 Also on campus is the Child Development Center's Learning Garden, the first major project of the Blue Ridge Women in Agriculture's Lettuce Learn program. Built in 2014, this garden offers a variety of experiential learning opportunities for the pre-K children attending the CDC and hosts learning garden workshops.
Like the change in seasons, change is also occurring in the garden. Students from the Department of Sustainable Technology and the Built Environment's Renewable Energy for the Developing World class recently installed an off-grid photovoltaic system on the shed to generate electricity for the garden. This 700w, battery based system will be used to charge tools and electronics, for lighting, and eventually to power speakers for small concerts. Adding an additional component to the space, weekly yoga classes are being held throughout the semester to encourage people to experience wellness through nature.
The latest addition to the garden is a raised, wheelchair-accessible planting bed, to allow differently abled members of the community the ability to contribute and learn in the garden.
Currently, volunteers and interns are working to finish a cob playspace for community children, constructed with soil donated from the Sustainable Development farm. The next few weeks bring even more growth, as the Appalachian State Beekeeping Club prepares to welcome hives of honeybees to their new garden home.
You can be a part of this project as well. According to Showalter: "We are always excited about involving more people in the garden.  Volunteers are what have made this space so amazing!" Follow the growth of the gardens, as well as learn how and when to volunteer or attend workshops, on Facebook at App State Sustainable Gardens, or contact Julia at showalterjm@appstate.edu with questions.