"Hyper Local" Carbon Offsetting: A Collaborative Effort for Methane Capture and Destruction
This academic year, 963 students, faculty, and staff at Appalachian paid $8 to offset their travel to and from campus by voluntarily participating in the Carbon Neutral Commuter (CNC) program. This program, now in its fourth year, is considered a carbon offset - a form of trade by which members of the Mountaineer community can counteract the environmental impact of their daily commute with local environmental projects.
Starting this year, proceeds from the program benefit a methane capture and destruction project at the Wilkes County landfill. "We are always interested in closing the loop, and this was a great opportunity for what we're calling 'hyper local' carbon offsetting," says Jim Dees, Data and Assessment Specialist in Appalachian's Office of Sustainability, and manager of the CNC program. "Some of the commuters in our program are coming to and from Wilkes County daily. Knowing the benefits of this program will play out in our community adds real value to this work."
Originally established by Appalachian Energy Center's Stan Steury, the Wilkes County Landfill Project captures and destroys methane gas, which is a byproduct of landfilling waste. Steury joined Appalachian in 2007 as a program manager, specializing in landfill gas capture with 30 years of experience in the field. "In 2010, we got this small natural gas generator going in Wilkes County and were able to design the project in such a way as to make the waste heat from the electricity generation available for a 3,000 sq ft greenhouse. The greenhouse was open to community organizations looking to extend their growing seasons," explains Steury.
Unfortunately the greenhouse was badly damaged in a 2016 tornado and with it, the financial contributions of the community partnerships. After that, "we never got the money we needed to keep the project afloat," says Steury. The collaboration between the Office of Sustainability, the Appalachian Energy Center, and Wilkes County could not have come at a better time.
Using the money from the CNC program is a natural fit: it is local, collaborative, an opportunity for educational experience, and reduces the carbon footprint associated with the University. "The CNC program provides the supplemental income to keep this project running," says Dees. "We know without Appalachian's involvement, this program would have ended, and it feels good to be so instrumental in that continued success."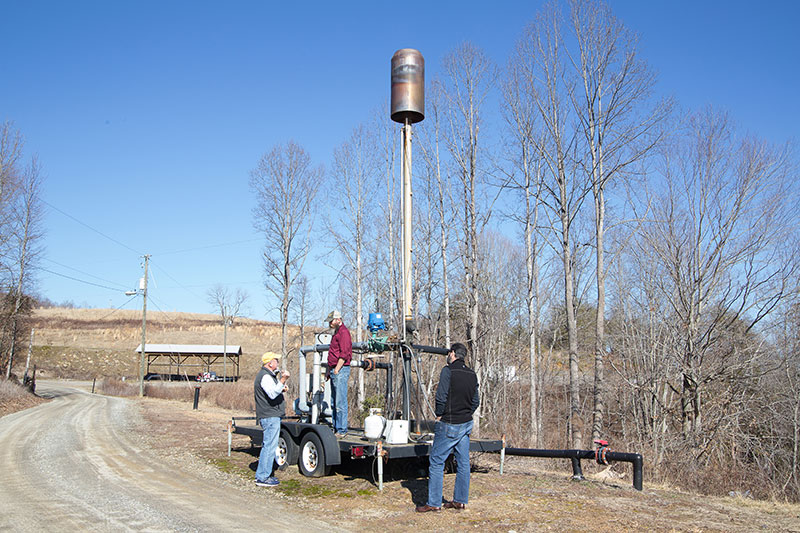 It is important to address the methane produced by landfills because, while CO2 gets the most publicity as the cause of climate change, methane traps approximately 30 times more heat. After fossil fuel production and livestock farming, landfills are the top source of methane pollution, accounting for 55 million tons of emissions yearly. "Methane is a good choice for targeting with the CNC program," says Dees. "It's a potent greenhouse gas, but relatively easy to capture since it has a stationary source of generation and the infrastructure is already in place. Small scale landfill projects like this one can have an impact much larger than themselves in the fight against climate change."
To extract the methane, a well must be drilled into the closed landfill, at a cost of $10,000 per well. In the mountains, these landfills can be up to 100 feet deep, and getting the wells in the right place can be tricky. "It's an inexact science," says Steury. "We don't know exactly where the pockets of gas will be, how much there is, or how long it will produce." The majority of methane wells are drilled to around 40 feet in depth, and at the Wilkes site, closed since 1993, one of the four wells produces 95% of the methane captured.
This year, the CNC program paid $7,704 to the Wilkes County landfill to maintain the equipment used for the capture and destruction of methane released from the landfill. This methane produces electricity via a natural gas engine. That energy is bought by Duke Energy and goes back onto the electrical grid. Steury explains: "Duke gets credit for the state-mandated renewable energy portfolio standard, but they aren't interested in the carbon offset. So Appalachian gets the credit for the offset, which is calculated by volume of methane destroyed."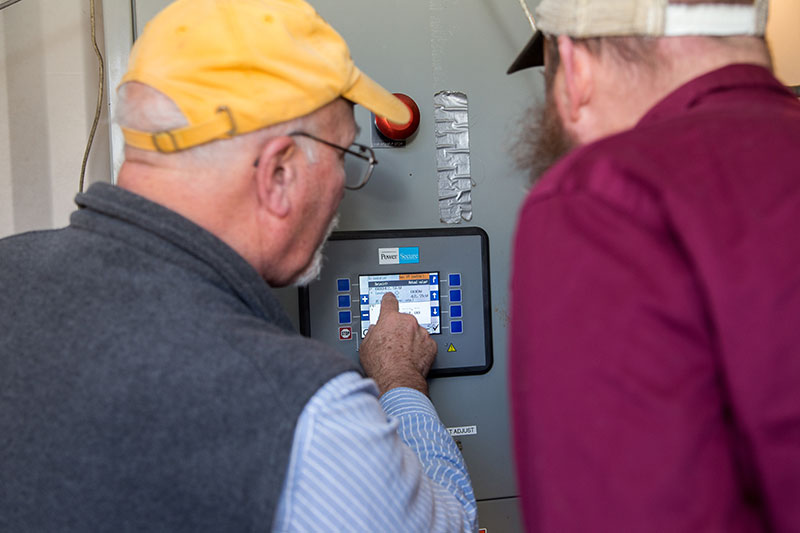 Methane capture and destruction is nothing new, but most companies that offer the equipment and service are for large-scale operations and many are foreign, making them impractical and prohibitively expensive for tech support and replacement parts. Eddie Barnes, Planning Director for Wilkes County, manages the Landfill Gas project for the county, and says that this smaller-scale model is more practical and accessible. "One of the great things about this project is that we can learn and do as we go. All the components for this equipment can be bought and maintained locally."
Looking to the future, the project will have an academic component as well. Students from Appalachian will soon use the Wilkes site as a working laboratory for classes, taking on such tasks as data monitoring, testing, and measuring methane captured. For students, this means a real-world learning experience and continued educational opportunity in a burgeoning field.
For Appalachian students, faculty, and staff, you can sign up to be a part of the CNC program through the Parking & Traffic Office when you register for your yearly parking pass. 
For more information about Landfill Gas, visit https://www.epa.gov/lmop/basic-information-about-landfill-gas