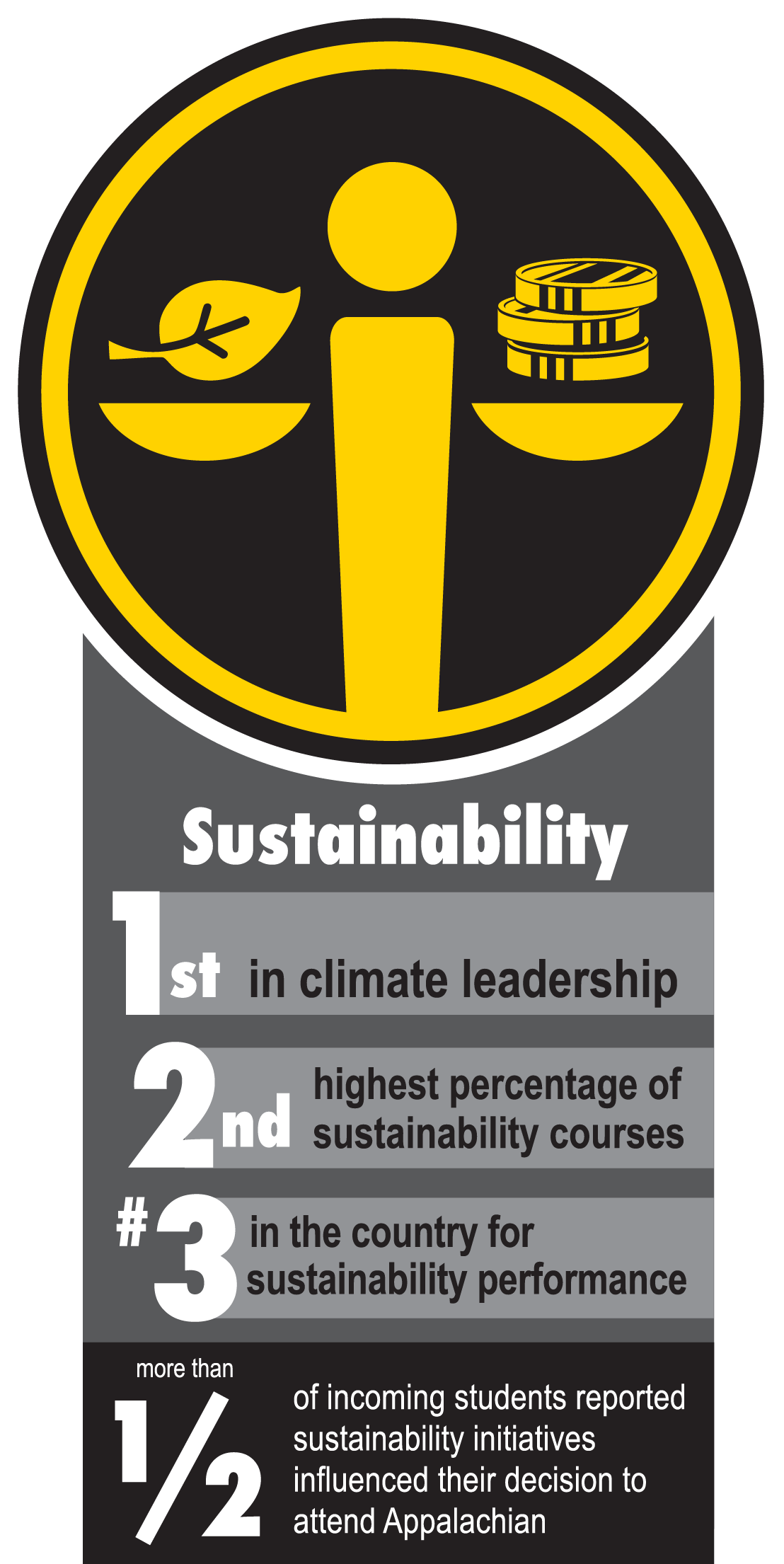 As part of the university's commitment to sustainability, we surveyed faculty in the fall of 2011 and again in fall of 2015 to inventory the nature and extent of research, scholarly activity, and creative production associated with or focused on sustainability. This data has been or will be used to:
identify expertise that can benefit our community and region by enhancing our sustainability efforts in campus operations;
identify faculty research interests and form multi-disciplinary research clusters;
identify external funding resources; and
serve as a metric for the 2014 - 2019 university's strategic plan: The Appalachian Experience: Envisioning a Just and Sustainable Future.
The data contributed to Appalachian's participation in a comprehensive, industry-standard sustainability assessment developed by the Association for the Advancement of Sustainability in Higher Education (AASHE). The assessment is the Sustainability, Tracking, Assessment and Rating System™ (STARS), a transparent, self-reporting framework for colleges and universities to measure their campus-wide sustainability performance.
According to the newly released AASHE's 2016 Sustainable Campus Index (Oct 24, 2016):
That is good enough for
First on the Overall Top Performers list for Master's institutions. (p 82)
Second on the Top Performers list for Curriculum in the nation (p 8)
3-way tie for 5th on the Top Performs list for Buildings in the nation (p 31)
The most recent research survey was conducted of all tenure-tracked faculty members at Appalachian State University. The survey sought to capture names, departments and research title and abstract information for all research and creative endeavors that relate to sustainability. The survey was conducted in coordination with the Office of Research and Sponsored Programs, Institutional Research, Assessment and Planning, Research Institute for Environment, Energy and Economics and the Office of Sustainability. The survey was conducted in Fall 2015. The survey had a 14% (not high enough to claim a representative sample so not sure if we want to advertise this) response rate and indicated the following:
15% of the research faculty are involved in research on or related to sustainability;
40 out of 46 of the university's academic divisions had at least one sustainability focused or related course;
Over 310 courses (graduate and undergraduate) focused on sustainability are offered;
Over 1164 courses (graduate and undergraduate) related to sustainability are offered;
View of all faculty engaged in research as it relates to sustainability
Centers for research at Appalachian with a focus on sustainability