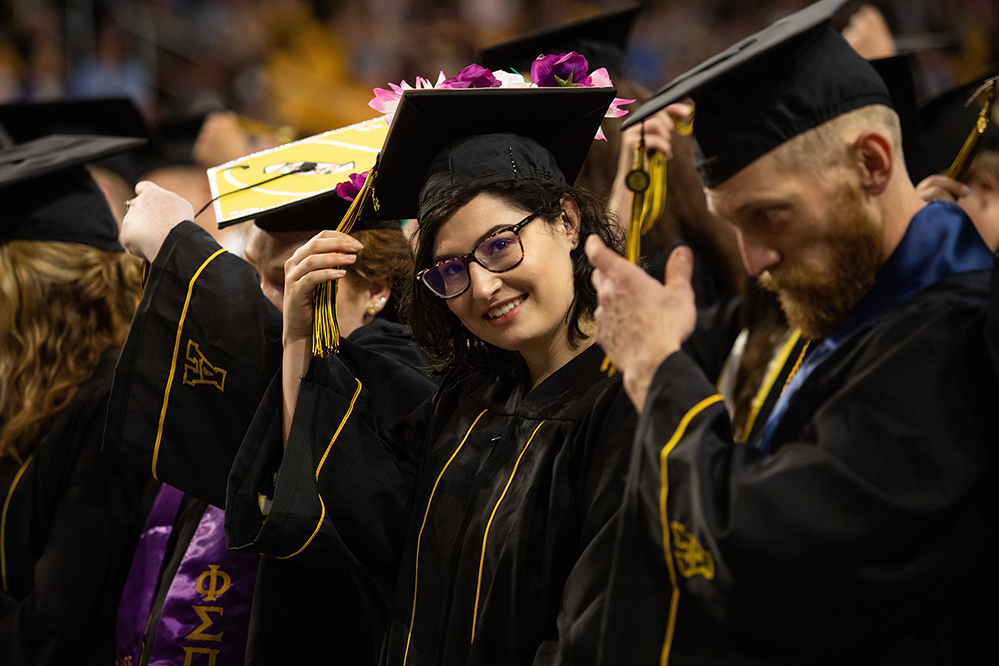 App State graduates turn their tassels at the College of Arts and Sciences commencement ceremony on May 7, 2022. Photo by Chase Reynolds
Official App State regalia is environmentally conscious GreenWeaver®️ regalia, made in the USA. This line of graduation wear is made of fabric spun from molten plastic pellets produced from 100% post-consumer recycled plastic bottles. An average of 25 plastic bottles are used to produce your cap and gown.
App State Regalia Reuse Program
The Office of Sustainability and App State's Commencement Committee have partnered to offer a Regalia Reuse program. This program offers a more sustainable, low-cost option for soon-to-be graduates. Typically only used for 90 minutes, over 5 million commencement gowns end up in landfills each year.
Donate Your Gown
Graduates have the opportunity to donate their gowns for a future graduate and fellow Mountaineer to reuse. Rather than storing your gown in your closet for years to come, please consider donating it. These donated gowns will be available in the Mountaineer Free Store on a first-come, first-served basis.
Donation Opportunities
Commencement Ceremony: Visit the Office of Sustainability table adjacent to the Alumni Association tent to donate your gown right after your ceremony.
Drop it off: Office of Sustainability's Mountaineer Free Store, East Hall Basement, 175 Locust Street, Boone, NC 28608. Open Monday–Friday, 8:30 a.m.–5:00 p.m.
Ship it: Address your package to Attn: Jennifer Maxwell, Mountaineer Free Store, 175 Locust Street, Boone, NC 28608